Admissions
Admissions
If you would like your child to attend our school, please see full details of our admission arrangements in the attached policy.
Applications will be considered based on our selection criteria.
1 Highest priority will be given to looked after children and all previously looked after children who apply for a place at the school. The 2021 Code requires children who appear (to the admission authority) to have been in state care outside of England and ceased to be in state care as a result of being adopted to be given equal first priority in admission arrangements, alongside looked after children (LAC) and children who were previously looked after by English local authorities (PLAC). This advice refers to these children as internationally adopted previously looked after children – "IAPLAC".
2 Children who live in the catchment area and who, at the time of admission, have a sibling (brother or sister) who attend the school
3 Children who live in the catchment area
4 Children who live outside the catchment area and who, at the time of admission, have a sibling (brother or sister) who attend the school or the child currently attends our school nursery at the time of application
5 Other children who live outside the catchment area
If you wish to make an application in-year, then please apply via the link below
https://www.nottinghamshire.gov.uk/education/school-admissions/changing-school
If your child is pre school age please ring 01623 842163 to add them to our waiting list.
Our Nursery admission form can be downloaded from the link here: Admission form for Nursery
Proposed Change to Admissions Criteria for Birklands Primary School 2025-2026
Every year schools and academies are required to review their admission arrangements. The aim is to ensure that the arrangements continue to be appropriate, and that they comply with all the relevant requirements.
It has been agreed that Birklands Primary School which is part of the NOVA Education Trust would consult on amending the existing admission arrangements.
The proposed changes would amend the oversubscription criteria to add the following point:
Children whose parent is an employee of Birklands Primary School and has been employed for two or more years at the time at which the application for submission to the school is made, or the member of staff is recruited to fill a vacant post for which there is a demonstrable skill shortage.
The consultation will run from 10th October 2023 until 26th November 2023. Parents and Carers are particularly welcome to comment on the proposed change to the admission arrangements for 2025/26. Please send your comments only relating to the changes in the section of the admission criteria detailed above to Mrs V Farr at the address above or email office@birklandsschool.co.uk. Responses will be considered with the final published admissions arrangements published by the 28th February.
A copy of the proposed policy can be found here.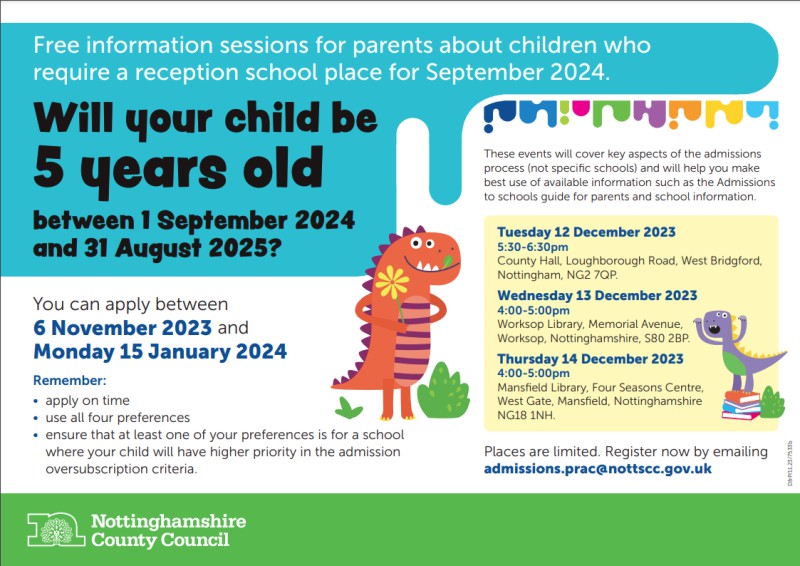 December 2023
| M | T | W | T | F | WE |
| --- | --- | --- | --- | --- | --- |
| | | | | 1 | 2 |
| 4 | 5 | 6 | 7 | 8 | 9 |
| 11 | 12 | 13 | 14 | 15 | 16 |
| 18 | 19 | 20 | 21 | 22 | 23 |
| 25 | 26 | 27 | 28 | 29 | 30 |